Processing Material Related Components
1.Backing Plates and Tubes
Available in all sizes and shapes
2.450mm Wafer Adaptor
1) New Product of AMTT.
2) 300mm wafers can be handled as 450mm wafers by applying the adaptor.
3) The adapter can used with the existing prime 300mm wafers.
3.Sales and reproduction of Static Chuck
1) We provide and reproduce polyimide electrode sheet based 8 inch static chuck for semi-conductor equipment.
2) Please contact us for alumina or anodized aluminum chucks.
3) AMTT provides statistic chuck for dropping and laminating equipment for manufacturing large substrate flat-panel displays.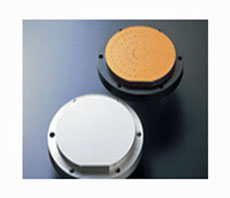 4.All types of wafers available: silicon wafers, prime and dummy wafers.
5.All types of mechanical processing components.