Used tools and equipment
Our aim is to positively participate in and contribute to semi-conductor, flat-panel display and solar batteries industries by sourcing the latest processing materials and equipment from the world and supplying to our customers in Japan.
Further, based on the reliance with our partner enterprises and friendly inter corporate relations, we will endeavor to maximize the synergy effect, thus improving the mutual benefits.
The excellent characteristics of AMTT used tools business
1.We only trade fully refurbished tools and equipment with a clean record and reliable performance.
AMTT does not act as a broking firm that trade as-is tools or hand over tools at storage sites.
2.In domestic region or overseas, our reliable engineering group will relocate and install the tools,
and provide after-sales service.
3.AMTT provides specific consumable parts. We also manufacture or reproduce optical components.
4.We develop, promote marketing and support custom-made processing tools and equipment for
developing a new process concept.


Our major trading tool manufactures
Inspection Tools
KLA-Tencor : SFS-6000,7000 series,P-,UV-,
TOPCON : WM-


Revera :
former Thermawave :
Nikon : Review Station
Nidek : Review Station etc.
Processing Tools
AMAT,
former SEMITOOL,
Mattson,
AXX,ULXX,RXM,NovXXX,etc.
Other
Variety of wafers and set of Jigs.
New tools for process development
Occasionally, legacy tools do not fully comply with the specific requirements for developing a new processing concept. Under such circumstances, AMTT is capable of customizing the legacy tools and at the same time provide the processing materials in need.
Alternatively, we can design and develop an all-new processing tool. We can be flexible with the budget, for example by outsourcing the tool on an operating-lease basis.
Example: Sputtering tools, washing tools like wet-station and scrubber, and assembling tools.
Commercial flow

The flow is same as for the new tools.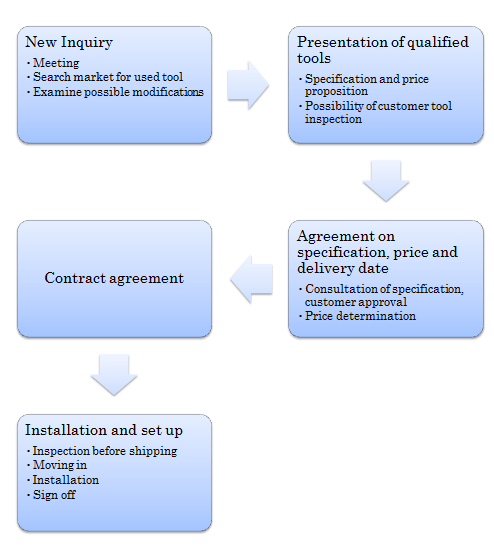 Developing new tools for process innovation
1.AMTT provides technical consulting for retrofit modification of existing processing tools (domestic
and abroad).
2.We offer marketing and consulting service of processing and inspection tools regarding their
technical innovativeness, commodity competitiveness and marketability.
※Mainly foreign products.
We introduce agencies that could distribute your products.
3.We can provide the following engineering services based on AMTT's associated and cooperative
companies.
a) Development of tools and equipment.
b) Development of materials.
c) Matching of tools and materials, process development and improvement of existing processing
method.
d) Life-extension and maintenance of existing facilities. Supply, reproduction and production of
legacy parts.
e) Semi-conductor; process development based on small to medium sized wafers. f)Flat-Panel
display; process development and improvement based on small to medium sized FP displays.